So much to report this weekend!! I have spent the last two days having lightbulbs pop in my mind – such a buzz!
The Right Brain Creative Business planning course, facilitated by Mikaela Danvers from Canberra Creatives was an incredible experience. I highly recommend participating in one of these courses if you are a creative type and want to map out a plan to build, establish or develop a business. Those of us there had goals ranging from having a first sale online to building a business with a 6 figure turnover. We came from quite diverse business endeavours and yet found so many links between our visions! (I now know who to go to in order to have a logo designed, stationery designed, children's parties catered for, items upcycled, jewellery individually designed, photographs taken, and my overall health coached!!)

There were some amazing activities throughout the day that had my brain popping with ideas, then refining them, examining them, brainstorming with the group and filtering out the gems. Just the suggestions from the group alone have given me practical ideas for streamlining my processes, outsourcing other parts, and planning new 'lines'. I have started to build the visual depiction of the vision that I have formed through this process but it is very much a work in progress at this point. The first part of it is here – in my first ever Instagram post! (Another product of the encouragement of my fellow workshoppers!) (If you want to follow me on Instagram then you will find me at #alittlebirdmademe !!)
I have some activities that I have assigned myself for the next couple of weeks, and will be accountable to the group, so will share my progress with you as I go (without too much boring detail!) I have to do a lot of research into my market, my competitors, my aspirational point, etc. So much fun to be had!
The other lovely part of this is that I have been able to share my excitement/vision/buzz with friends and family over the last day and they have added to my knowledge banks. One with a suggestion for a new product (that is so logical I can't believe I never thought of it!!), another with some added material and mantras to include (such a great inner circle advisor!) and my parents with wonderful encouragement to just keep playing with the ideas and enjoying the journey. One of the biggest benefits in this process, and some other activities over the last week, has been a journey of self-discovery and self-affirmation. Being reminded of my strengths, my unique values and what makes me stand out from the crowd has been a joyous journey.
One of my discoveries that I am adopting as an affirmation is that being 'quirky' is a compliment. Standing out for being 'different' is a gift, not a burden to be carried, in this case. I am happily embracing my quirkiness and celebrating my differences – these are the things that will help me stand out from others in identifying my perfect customer and my marketing strategies.
Phew! After all the brainstorming and excitement of yesterday, followed by dinner, lunch and then afternoon tea with friends to allow for de-briefing, no sewing occurred. And that is okay. However I do have a photo of a bag I finished a few days ago to share with you. This one, and the Dr Who bag are both in the shop now.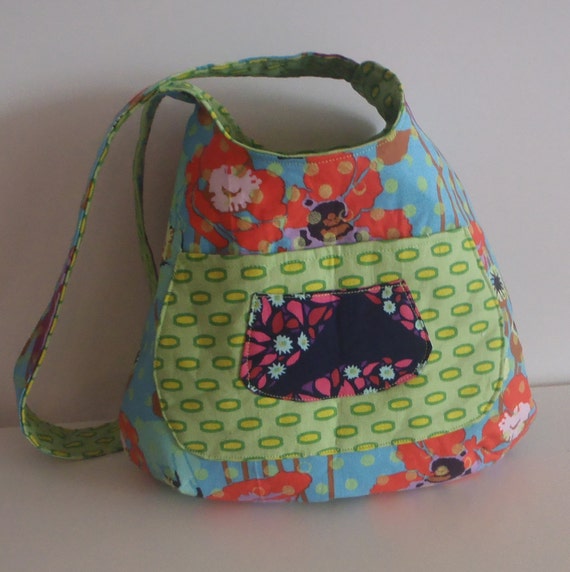 Now to start the work week, do my homework from the course, start on my action plan, fit in a bit of sewing and then drive down to the farm (6 hours away) to collect the chicks and bring them back. Feeling so invigorated and inspired and happily quirky, the week is sure to be great! I hope that your week is full of inspiration and is appropriately quirky.