This series of posts provides a place for me to share tutorials I have found online where other crafters have shared their ideas on how to make handmade for whatever occasion, outfit, home decoration need that you might have.  This post focusses on Easter.  This has to be one of the best holiday seasons around – religious meaning, chocolate, cute bunnies and chicks, a four day weekend – not a lot more you can ask for in a holiday really!
The number of crafts available for Easter is, of course, endless.  I have collected some of my favourite sewing tutorials here, and have pinned many other links to tutorials for all sorts of other crafts on my "Holidays" Pinterest board if you are looking for other inspiration.
Cushions
I am not especially good at changing my décor to suit the holidays – but with cute cushion covers like these, I think I could be tempted!
Peppermint Patcher has a lovely tutorial for making Easter Cushions with appliqued eggs.
Wolf and willow has this gorgeous pattern for a bunny pillow.
The 36th Avenue has this tutorial that, through reverse applique, gives you a pillow and a rabbit softie!
And for another take on a bunny pillow Ameroonie Designs has this tutorial for a Bunny Hop pillow.
Other Easter décor ideas
This applique wallhanging from Samelia's Mum has no bunnies – but a hint of chocolate eggs (the well known by-product of easter bunnies!)
Over at The Split Stitch there is a great tutorial for an egg shaped mug rug, and at Hope and Gloria you will find a great tutorial for fabric eggs – perfect for using up colourful scraps!
Softies
All those cute little bunnies and chicks lend themselves to sewing soft toys – so here is a quick round up of some of the cutest free patterns available – and many aimed at the novice sewist!
The Sewing Loft has a brand new free pattern (only released last week) for the most adorable floppy bunny rabbit – an easy project with a beautiful end product!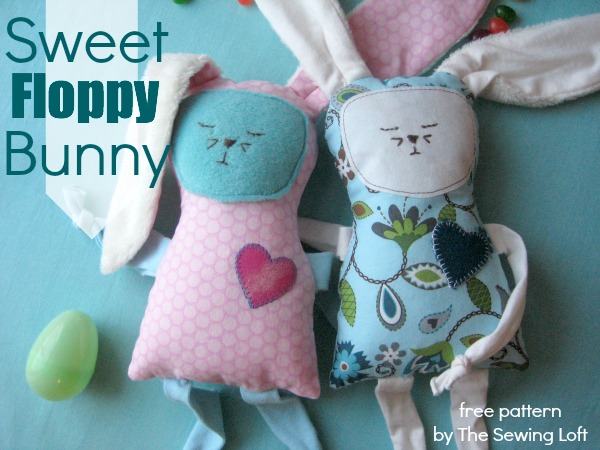 Patchwork Posse have kindly collected 18 free patterns for making bunnies, and Prairie Mouse has this beautiful pattern for a felt Easter bunny!
An environmentally friendly option of recycling a t-shirt into a gorgeous rabbit can be found at Chez Beeper Bebe.
All about you has an Easter chick pattern, to break up the flow of bunnies!
Teresa from DownUnder (not me!) also has some cute chickens to make.
Other Easter sewing ideas
Oh my goodness – how cute are these egg cosies by the Red Brolly??
There are pages and pages of wonderful ideas for children's Easter craft, free Easter printables, delicious recipes and fantastic ideas for decorating eggs out there on the net – I have captured a very small selection here, and a few more on my Pinterest Holidays board.  My final piece of inspiration however, is this decorated egg by Red Ted Art – a wonderful site full of inspiring ideas.