In the process of making the crocheted floor rug for my daughters' room from recycled t-shirt yarn (also known as 'tarn' and by the brand name 'zpagetti') I found a pile of patterns to draw inspiration from.  I am now slightly stalled in the process of making a rug for my son's room, so hope that by revisiting those tutorials to share with you I might kick start myself back into action!
Making T-shirt yarn
Tutorial on Mollie Makes – how to make t-shirt yarn
Clear diagram on the interestingly named Fuck Yeah Craft site – making t-shirt yarn
Video and instructions on ReleveDesign – how to cut continuous t-shirt yarn
Polka Dot Pineapple – Tutorial on making t-shirt yarn
Making rugs
Upcycle magazine – How to make an Upcycled Crochet Rug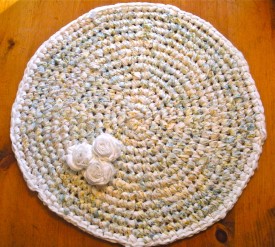 NobleKnits Knitting Blog – How to crochet a Rag Rug tutorial
Eclectic Me – Who said Grannys don't look good in denim?  (tutorial for a denim crocheted floor rug)
Impatiently Crafty – Round Crochet Rag Rug tutorial
Flight of the Pook has created a vlog series on Great Big Fat Crochet.
King Soliet – detailed post and lots of ideas on making Upcycled Crochet Rug
Sugar Bee Crafts – Rag Rug Tutorial
Bauta Witch has a tutorial for creating a crocheted rug, that includes lighting!  There is an English translation at the bottom of the post.
This Ripple rug pattern on the Sweet and Knit blog is written in Spanish, but is easily translated and results in a gorgeous floor rug.
It has worked!  I am off to pick up the hook again – and hopefully have some photos of the finished product before too long!